Each year Adrian is proud to personally offer two "Adrian Dix" scholarships for outstanding graduates of Gladstone and Windermere Secondary Schools.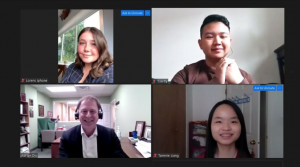 I'm delighted to announce this year's Adrian Dix Scholarship recipients. My warmest
congratulations to Loren Roberts and Timothy Ta from Windermere Secondary and Felicia Chung and Tammie Liang from Gladstone Secondary.
You've reached this incredible milestone and you should be very proud of your wonderful achievements. It's been a challenging year — I want to thank you and your classmates for the sacrifices you've all made to keep your loved ones and community safe. All the very best to the Class of 2021 in your future endeavours!
| | | |
| --- | --- | --- |
| Year | | |
| 2021 | Loren Roberts / Timothy Ta | Felicia Chung / Tammie Liang |
| 2020 | Haisha Beauvoir / Marc Angelo Castro | Anna Dinh-Le / Mady Nguyen |
| 2019 | Kelly La / Michael Zheng | Hazel Panglinan /Ken Liang |
| 2018 | Gordon Leung / Selena Shew | Brandon Lowe / Victor Wu |
| 2017 | Kylie To / Shawna Turai | Zoe Tucker-Borrut /Anita Hsiao |
| 2016 | Michelle Phan / Justin Naorbe | Pooja Patel / Monica Rosa |
| 2015 | Liam Polozzo / Minisha Owan / Philip Dumagpi / Vinnie Barati | Jennifer Phi /Johnny Yang |
| 2014 | Jackie Sarvini / Anita Feng | Raymond Au / Priyanka Prabakaran |
| 2013 | Wilson Wu / Gurleen Pooni | Natalie Leung / Erika Pan |
| 2012 | Edrick Dudang | Annet Yanken /Pauline Young |
| 2011 | Loren Catotal / Howard Wong | Andrew Leung / Lisa Wu |
| 2010 | Amber Bhangoo / Puneet Riar | Julianne Keu / Stephanie to |
| 2009 | Ezra Park | Jennifer Siu / Vivian Tam |
| 2008 | Sharan Pawa | Paolo Carreras / Mandeep Sahota |
| 2007 | Rachel Chee | |