Adrian Dix and the long road to become the health minister BC needs
Newspaper: Vancouver Sun ● Author: Rob Shaw ● Publishing date:  April 27, 2020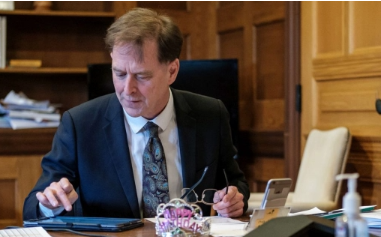 VICTORIA — Call him the comeback kid. The cat with nine lives. Or the ultimate political survivor. But whatever you think of Adrian Dix, you've probably also concluded recently: He's been a hell of a good health minister during these unprecedented and frightening times.
That's not a surprise to those who know Dix as the detail-oriented workaholic that he is — part politician, part walking encyclopedia. Who better to tackle the government's most complex ministry during the biggest crisis it has ever faced than the guy who clocks ungodly hours, reads every bit of research possible, and captures it all in a near-photographic memory?
But in another, larger, sense, it's amazing Dix is even here at all. He's lived several lives in B.C.'s political arena, and survived against sometimes extraordinary odds.
In this most recent incarnation, Dix and provincial health officer Dr. Bonnie Henry have been the guiding forces behind B.C.'s response to the COVID-19 pandemic. Together, they've helped bend the curve of growth, and put the province in one of the best positions in the country.
In the process, Dix has found himself widely praised for his calm demeanour, grasp of an ever-changing file and ability to put partisan politics aside. He regularly includes Green and Liberal MLAs in his decisions.
"Norm Letnick and Sonia Furstenau have been key advisers of mine during this COVID-19 period," he said. "The advice from Norm and Sonia has been exceptional."
Not even Dix's sharpest critics in Opposition have anything bad to say about him right now. More often, they can be found on social media praising his steady leadership.
Which is all the more remarkable when you think about Dix's history.
He started 30 years ago as the most partisan attack dog you could imagine for the NDP. He was a hyper-aggressive operative in the legislature's back corridors, running with a crew that included a brash young John Horgan. Dix rose to chief of staff for then premier Glen Clark, himself one of the most hyper-aggressive premiers in B.C. history.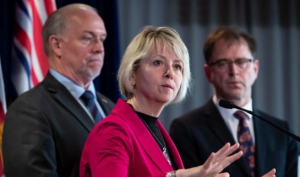 Provincial health officer Dr. Bonnie Henry responds to questions while B.C. Premier John Horgan, back left, and Health Minister Adrian Dix listen during a news conference about the provincial response to the coronavirus.
It's hard to reconcile that version of Adrian Dix with the calm conciliator we see today in daily public health briefings. But back then, in his early 30s, he gave no quarter to his enemies and suffered no fools in his company. A brilliant and combative young man, he was the NDP's political wunderkind.
And then he took a fall — backdating a memo to protect the premier in a casino licensing scandal, and losing his job. Most thought his career was over. In retrospect, it was just getting started.
Six years later, after stints as a newspaper columnist and leader of a French immersion advocacy agency, Dix re-emerged to win the riding of Vancouver-Kingsway for the NDP in 2005. He parlayed his late-night insomnia-driven research sessions into the opposition's top critic portfolios. A series of Liberal cabinet ministers quickly realized — often too late — that Dix knew more about their portfolios than they did. The health ministry was a particular specialty.
Dix was an easy choice for NDP leader in 2011. He soon put new Liberal premier Christy Clark on her heels, digging up a series of scandals that led to an RCMP probe. Yet his growth from a young backroom partisan into a middle-aged public-facing politician was evident. When he demanded the NDP run its 2013 election campaign on a positive message, with no negative ads or personal attacks, much of the political establishment was stunned at his transformation.
Unfortunately, Dix's "change for the better, one practical step at a time" platform was no match for Clark's polished charisma and over-the-top promises of a "debt-free B.C." driven by liquefied natural gas. She stunned him at the polls with an upset victory.
Another fall. And again, most thought the career of Adrian Dix was over.
Still he refused to ride off into the sunset. He resigned as leader, but stayed as an MLA. He simply moved to a smaller office, filled it with different stacks of research material, and picked up where he left off as a critic. His subsequent work on files like the Insurance Corp. of B.C. and B.C. Hydro helped give much-needed ammunition to new NDP Leader John Horgan.
When the NDP toppled the Liberals to form government in 2017, Horgan turned to his friend of more than 30 years to run the most expensive and complicated ministry in government.
"I've got a picture on my desk at home of him holding my first born, now 32-year-old son, in his arms," Horgan told CTV News recently. "I gave Adrian my baby and had full confidence. I have full confidence he'll manage our health-care system and manage this pandemic in the days and weeks ahead."
Dix said Horgan has taught him how to be a leader.
"One of my main tasks is to make sure a really outstanding team, led by (deputy health minister) Steve Brown and Bonnie Henry, has the room it needs to make a decision," he said. "I'm a detail-oriented person but the right leadership approach is to step back and let the leadership team perform.
"Sometimes the best critics don't make the best ministers — I'm very aware of that," Dix added. "When you get here, it's a very large health system and other people have to have strength and authority. And I think that probably reflects the most learning I've done, which is allowing other people to do the work, benefiting from their expertise, and giving them a chance to do what we need to do."
His ability to work with Opposition Liberals and Greens during the crisis is an extension of his shift away from negativity in 2013. That mellowing may also be the result of a man, now 56 years of age, whose ups and down in the political system have rounded his edges off.
"I'm a very partisan person, don't get me wrong — I was leader of the NDP after all," said Dix. "But I think to be constantly partisan is to be too narrow. And there's some things we can work together on. And that's benefited us."
The long journey through many political incarnations is not lost on Dix.
"I think I've learned a lot," he said. "My understanding of the way I am with people is better. What hasn't changed, is the drive I get from the place I live."
The pace of work during a pandemic though, is crushing, even for someone with a track record like Dix. Every day, between noon and 2 p.m., he and Dr. Henry sit in his office and analyze the previous day's reported COVID-19 cases in advance of their lengthy 3 p.m. news conferences. He pauses at the death counts, knowing those are often seniors who died in mandatory isolation, separated in their final moments from their loved ones.
"Every day it's the first thing I read on that page, and every day it shakes you," he said. "That's a brutal part of every single day. You try and convey that if you can."
And then, every day, after the briefings are done and the afternoon is closing, Dix picks up the phone and starts calling people. Constituents. Community leaders. People from his church community (Dix is Anglican and his wife's father was a United Church minister in New Westminster). He asks them how it's going, and listens to their stories. "If you are not careful you can become isolated from people and what they are going through and their experiences," he said.
His last call is always to wife Renee Saklikar, a lawyer turned poet who he says continues to be the most positive thing in his life. She's at home in Vancouver while he spends most days in Victoria overseeing the COVID-19 response from the legislature. He protects her privacy fiercely. "She continues to have a very positive influence on me after all these years," he said, simply.
Eventually, he heads to bed. The old insomniac Dix who survived on two to three hours of sleep a night is no more. These days, he says he gets a solid six. Most of the time. Last night wasn't so great, he admits. These days, there's a lot on his mind.
Today, as health minister, Dix is a walking reminder of how odd a business politics can be. Stick around long enough and you can experience a career renaissance in the most improbable of ways. Maybe, as Dix did, you'll become the right person, in the right job, at the right time.
In the end, Adrian Dix wasn't the premier British Columbians wanted in 2013. But he's lasted long enough to become the health minister they desperately needed in 2020.
---
July 18, 2017  Adrian sworn-in as Minister of Health