=============================================================
The RISE Community Health Centre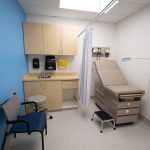 People living in Renfrew-Collingwood and surrounding neighbourhoods now have access to more primary care and health promotion services with the opening of the new RISE Community Health Centre, on June 15, 2020
RISE will first offer comprehensive primary care and health-promotion services. It is accepting patients by self-referral, community referral and medical provider referral.  RISE located at 5198 Joyce St., Vancouver, email: risechc@cnh.bc.ca   tel: 604-558-8090
To learn more about RISE community health centre, visit: www.cnh.bc.ca/rise
For virtual tour of the RISE Community Health Centre, visit: https://youtu.be/21EPdcCfMHc
============================================================
June 28, 2022 –  Three Links Home Movie Premiere
Three Links Care Society Home Movie
February 06, 2022 – Visit Immunization workers at the Italian Cultural Centre
Visited our inspiring team of immunization workers at the Italian Cultural Centre this Sunday morning. They will do 1600 COVID-19 vaccine doses today. This clinic has meant so much to East Van. Thank you. Photos of the wall of thanks represent what everyone feels.
December 18, 2021  1pm-2pm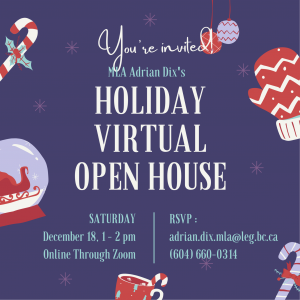 July 27, 2021
Adrian at the Three Links' Care Aide Unification week event!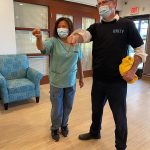 July 23, 2021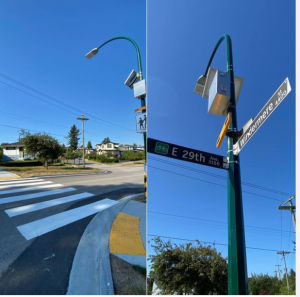 In early 2019, Windermere Leadership students, Hannah and Ava reached out to my office requesting for a letter of support for an important community project. The team was advocating for the installation of a pedestrian crosswalk at the intersection of East 29th Avenue and Manor Street/Windermere Street. They noticed the intersection was dangerous for pedestrians especially for students walking to and from school as many motorists sped up and down the hill on East 29th Avenue.
The team did an incredible amount of work to engage with the community and collected signatures to share with City of Vancouver's Streets & Transportation Department. Because of the students' advocacy and community feedback, City staff conducted a thorough crossing safety review and recommended upgrading the intersection. The community will now benefit from the newly installed pedestrian crosswalk. A big
congratulations
and thank you to Hannah, Ava, and the team for their incredible work to ensure Renfrew-Collingwood continues to be a safe place to live, work, and play!
July 16, 2021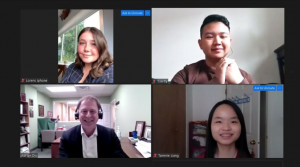 I'm delighted to announce this year's Adrian Dix Scholarship recipients. My warmest
congratulations to Loren Roberts and Timothy Ta from Windermere Secondary and Felicia Chung and Tammie Liang from Gladstone Secondary.
You've reached this incredible milestone and you should be very proud of your wonderful achievements. It's been a challenging year — I want to thank you and your classmates for the sacrifices you've all made to keep your loved ones and community safe. All the very best to the Class of 2021 in your future endeavours!
June 15, 2021
(From Collingwood Neighbourhood House News and Announcements, read HERE)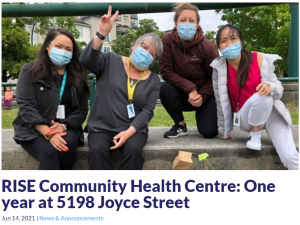 June 15. 2021 marks one year since RISE Community Health Centre opened its doors at 5198 Joyce Street! During RISE's first year, we have seen incredible growth from five staff members to 21 staff members, and from a few patients when we started in our tiny clinic room at Collingwood Neighbourhood House (CNH) to over 400 patients.
Opening during the COVID-19 pandemic—and the pandemic lasting as long as it has—has created challenges RISE staff never anticipated. Nevertheless, staff have managed to have over 10,000 in-person and virtual client visits in our first year. We also had over 200 group sessions, including regular community visits to Kingsway Continental, Sarah Ross and Naomi Place—all non-market housing centres—in addition to CNH's Morning Star and SAFE in Collingwood programs.
Some of the highlights of year one for RISE staff were:
"Building an amazing team, moving into a beautiful new space and supporting people that really need it."
"Meeting different people and learning from them."
"Seeing our team grow into this amazing RISE family."
In Year 2 of operations, we hope to open the RISE non-profit pharmacy dispensary, continue expanding our staff and clients, and continue building relationships in the community. Staff are looking forward to the pandemic ending so we can further decrease the barriers to access for clients and have a grand opening for the public.
For more information about RISE, visit cnh.bc.ca/rise or call 604-558-8090.
RISE (Resilient, Integrative, Socially Just and Equitable) Community Health Centre connects Renfrew-Collingwood community members who have difficulty accessing health care to a health care team and social supports. RISE also provides health promotion programs and events to the broader Renfrew-Collingwood neighbourhood. RISE is part of CNH, a non-profit society governed by a volunteer board of directors.
==========================================================================
January 15, 2021 – Great to be outside together & a beautiful night for a walk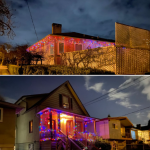 Deep local walk tonight with Renee in Collingwood. And yes, ran across a couple of nicely lighted houses on Hoy and Vanness. Understated and beautiful. Great to be outside together and a beautiful night for a walk.
January 04, 2021 – City of Burnaby – Local Government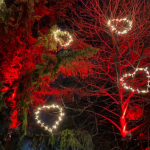 After, another day of COVID-19, an evening walk south With Renee to see the beautiful light display by the City of Burnaby at Boundary and 46th. It is right at the Central Park COVID testing station. Thanks to the City of Burnaby for the lights and for their support of public health. And to Fraser Health and the Burnaby Division Of Family for all their dedication and work. Also, a great night, even in the city, for stargazing. Can you see Orion below? Yay Burnaby, South Van, health care and stars!
December 23, 2020 – A week of walks all over the constituency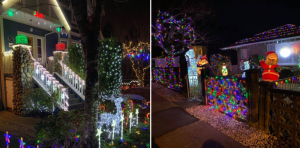 A week of walks all over the constituency with Renee Saklikar. Skeena, Euclid, Wellington, Price, Glendale, Church and more. And in the evening some Great Christmas light displays all over – in pictures tonight from Church and Mckinnon. Thanks to everyone for brightening the season.
December 19, 2020 – our first virtual Christmas Holiday Party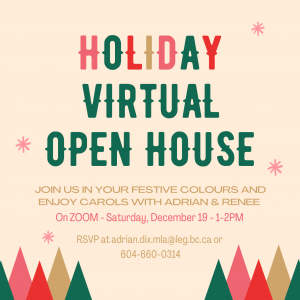 Thanks to everyone who took part in our virtual Christmas Holiday Party and carol singing event on Zoom today. Special thanks to Jim Edmondson and Madeline for another great performance. They were as always terrific. So appreciate it. No in-person party this year and we will miss everybody. But coming together to sing – even virtually -is always special. Plus was able to bust out the Christmas ties. To our staff team, Idy and Cassandra, to Thuy and Lucinda for coming out. and all the community people who joined us, thank you.
August 16, 2020 – A Collingwood Walk Wellington, Monmouth, Price, Tanner, Moscrop & more ……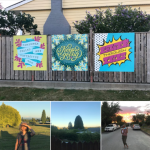 On an otherwise working weekend some wonderful walks with Renee. On Saturday we ventured into Burnaby, walking the full length of Joffre from Imperial to the old South East Marine Drive and then back up the big hill With Baker looking amazing in the distance. Check out the picture of the house with the inspiring signs. On Friday we went west down Euclid and today we did a classic Collingwood walk snaking up and down Wellington on, Monmouth, Price, Tanner, Moscrop and more.
August 09, 2020 – Walk from Crowley ..Payne..Tanner..Moscrop..Cariboo..Skeena..Anzio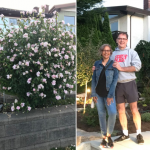 Renee and I had a great walk in the neighbourhood last night. From Crowley to Payne to Tanner, Moscrop and Cariboo Streets and then down Skeena to Anzio Drive where we had a physically distanced chat with our friends Dale and Glen in their front yard. For a nice picture see Dale's page. Saw some gatherings en route – all small and physically distance like ours. Proud of our beautiful neighbourhood. And there was a convention of Rose of Sharon on Skeena – definitely the most popular bush on the street.
July 26, 2020 – Another great walk in the neighbourhood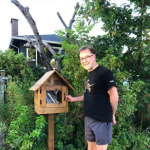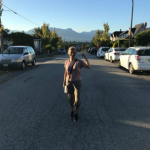 Great walk tonight with Renee down Euclid to Earles and over past the ravine to Atlin then over to Kaslo for the best view of Vancouver in the city down to Sunny Hill Health Centre for Children (!!!) then back via Windermere Secondary School and Wellington Vanness then home. Beautiful evening, not too hot but we are bracing for the day ahead. Renee
July 19, 2020 – Greek Summer Fest on Boundary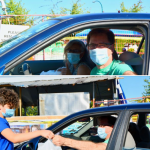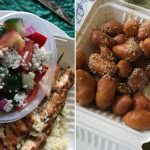 Thanks to the team of volunteers at Greek Summer Fest on Boundary for a great virtual, drive-through, delicious, inspiring festival. Renee and I so appreciate all of you and of course the food! Some people just live the credo "never give up." See you next year, we hope for song, dancing and more food.
July 17, 2020 – Beautiful walk at south Aberdeen and Arlington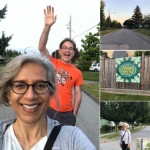 Beautiful walk with Renee tonight south Aberdeen and Arlington (where the legendary Trade unionist Jack Nichol lived. I remember to this day and in detail the speech Mr. Nichol gave at an NDP nomination meeting in 1984 about why voting mattered, even when you were not necessarily going to win.) From there south of Central Park in Burnaby down Joffre to Rumble. And back. Perfect weather and the view south down Joffre goes on forever.
July 12, 2020 – A walk at Earles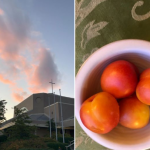 A beautiful walk tonight in the neighbourhood tonight. A kind man on Earles offered us some plums from the tree in his garden. And we remembered fondly Paul McDonell – Burnaby legend, great city councillor and friend to all who knew him. Rest in peace my friend.
July 05, 2020 – A walk near home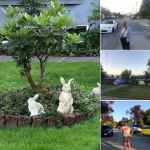 Renee and I walking north from Crowley Drive tonight. Aberdeen Wellington, Skeena, Anzio, Mons, Normandy, Worthington, Glendale Kootenay, Moscrop, Joyce, back home. Lots of people out walking and gardening. Another beautiful Renfrew Collingwood evening.
June 29, 2020 – Great night for a walk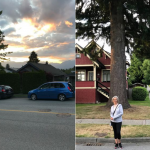 Great night for a walk west down Euclid Avenue past Norquay Elementary (Yay Kieran), down Gothard the over to Nanaimo. Renee and I saw some great gardens – Community and residential- beautiful trees and lots of friendly people.
June 21, 2020 
Congratulations to the Gladstone Secondary School Graduating Class of 2020.
Here is a brief message to the Gladstone Graduating Class of 2020.  Watch here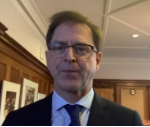 While COVID-19 is preventing us from gathering at the Queen Elizabeth Theater together, I am so proud of all of you.  The spirit of acceptance and generosity that drives the entire Gladstone community has been an inspiration.  Your class, the class of 2020, came together at a time of adversity and helped to save your school.  You leave a legacy at Gladstone that the next generation of students will be proud of.  I am proud every year to personally offer two "Adrian Dix" scholarships to worthy graduates as I will be doing this year (stay tuned!)
Congratulations to the Windermere Secondary School Graduating Class of 2020.
Here is a brief message to the Windermere Graduating Class of 2020.  Watch here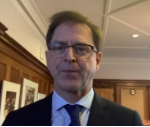 Ordinarily all of us would be heading the Chan Centre soon to celebrate together.  due to the COVID-19 pandemic, this is not possible.  However, your achievements are extraordinary and speak for themselves.  I am proud every year to personally offer two "Adrian Dix" scholarship to worthy graduates as I will be doing this year (news to follow).
June 05, 2020 –  One of the great things about being home
One of the great things about being home in Renfrew-Collingwood is that Central Park is so close – kitty-corner from the constituency. (Yes we love Burnaby too.) Tonight Renee and I enjoyed a beautiful June evening walk and got to practice Physical Distancing with the owls
.
June 04, 2020 – Collingwood Neighbourhood House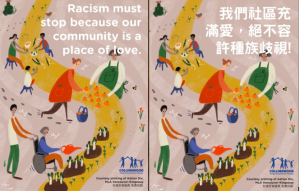 Racism must stop because our community is a place of love!
In response to racism in Vancouver and recent protests in support of Black Lives Matter, CNH is working with community members to lead an anti-racism response in our neighbourhood.
This poster was designed by a community member and has been developed with the support of the Vancouver-Kingsway MLA Constituency Office of Adrian Dix.
May 21, 2020 – An evening walk …. an amazing gift!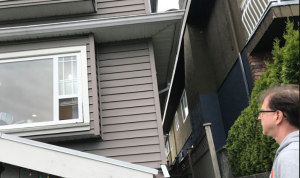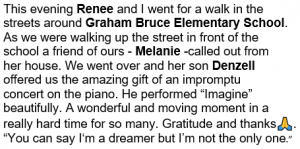 May 11, 2020 – More than 50 residents now have a safe, warm place to call home following the opening of Naomi Place, the latest temporary modular housing building in Vancouver. Learn about temporary modular housing and take a video tour here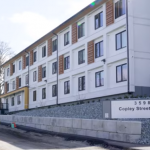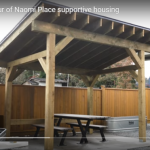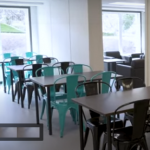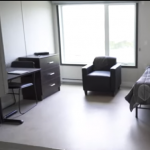 May 01, 2020 – Collingwood Neighbourhood House's Morning Star program is still in full operation — adjusted to be COVID-19 safe(r) 😊   
Collingwood Neighbourhood House: 5288 Joyce St., Vancouver.  Tel: 604-435-0323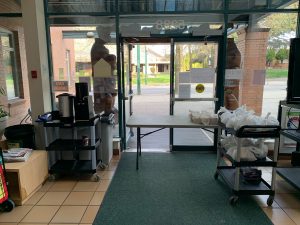 This program is for people who are homeless or at risk of homelessness. Each Saturday, participants have the opportunity to have a shower, grab some clean clothing, enjoy a substantial breakfast, experience foot care from nurses, and chat with housing outreach staff to get housing or find the supports to help them stay housed. During COVID-19, CNH staff are still working hard to support folks in our neighbourhood through outreach services and phone support.
The breakfast program is now take away but showers are still available!
February 2020 (Renfrew-Collingwood Community Newspaper)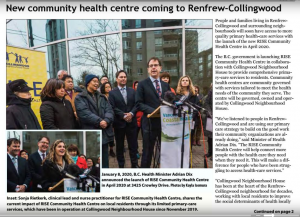 September 2018 (Renfrew-Collingwood Community Newspaper)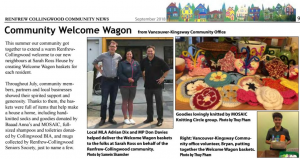 July 2017 (Renfrew-Collingwood Community Newspaper)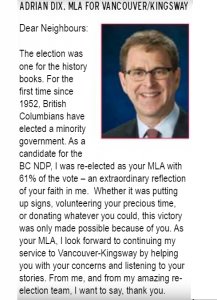 June 2017 (Renfrew-Collingwood Community Newspaper)