June 30, 2020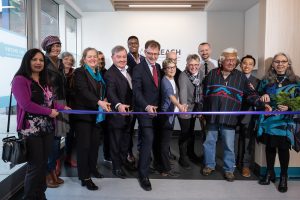 People living in East Vancouver now have better access to team-based urgent and primary care with the official opening of the new REACH Urgent and Primary Care Centre (UPCC).
"The REACH UPCC will connect people in East Vancouver and the surrounding communities with the health care they need, when they need it," said Adrian Dix, Minister of Health. "REACH has been supporting Vancouver residents for over 50 years. Through our partnership with community stakeholders, the UPCC will provide increased access to same day appointments for urgent needs and ongoing primary care to tens of thousands of area residents who lack a primary care provider."
REACH UPCC is a partnership between the REACH Community Health Centre, the Ministry of Health, Vancouver Coastal Health, Providence Health and the Vancouver Division of Family Practice. The new centre is the second UPCC to open in Vancouver. Fifteen UPCCs have been announced throughout B.C. under the government's primary care strategy.
More than 37,000 additional patients will benefit from the services at REACH UPCC each year. They will be seen by a team of health-care providers, including doctors, nurse practitioners, nurses, licensed practical nurses, social workers, a clinical pharmacist and office staff.
"I know how hard it's been for residents in East Vancouver to find a consistent primary care provider," said Melanie Mark, MLA for Vancouver-Mount Pleasant. "This game-changing investment is a major win for constituents who often face long wait times at walk-in clinics. I'm proud that our government is taking action to connect patients with skilled health-care professionals that will ensure they have access to the comprehensive primary health care they need."
Shane Simpson, MLA for Vancouver-Hastings, said, "Comprehensive and patient-centred care is a much-needed service that connects patients with a network of health-care professionals, making sure their primary care needs are met. The REACH UPCC is an exciting step forward for the community of East Vancouver and will make a big difference in the lives of residents, including my family."
The centre serves two purposes. The first purpose is to provide care for people with non-life-threatening conditions who need to see a health-care provider within 12-24 hours but do not require an emergency department and do not have or cannot access their family practitioners.
The second purpose is to help attach patients to a family doctor or a nurse practitioner through partnership with the Vancouver Division of Family Practice. To facilitate this, the UPCC will connect patients either to the REACH Community Health Centre (for those with complex health needs) or to local practices. For patients who do not have a family doctor or nurse practitioner, REACH UPCC will also engage in the necessary steps to best support their health-care needs.
REACH UPCC is located in a renovated space in the REACH Community Health Centre at 1145 Commercial Dr. in East Vancouver.
Quotes:
Mary Ackenhusen, president and CEO, Vancouver Coastal Health —
"Vancouver Coastal Health is pleased to be a key partner in enhancing access to care for more people. The new urgent and primary care centre, delivered with our partners at REACH Community Health Care, allows us to wrap health-care services around patients who need them within their own community, and provide ongoing care and support in a way that will result in better and more responsive care."
Learn More:
To learn more about the Province's primary health-care strategy, visit: https://news.gov.bc.ca/releases/2018PREM0034-001010
To learn more about the Province's strategy to increase the number of nurse practitioners, visit: https://news.gov.bc.ca/releases/2018HLTH0034-000995
To learn more about the Province's strategy to recruit and retain more family medicine graduates, visit: https://news.gov.bc.ca/releases/2018HLTH0052-001043