May 30, 2022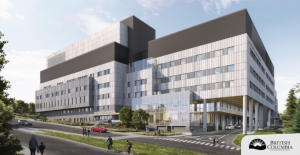 Construction begins on the redevelopment of Burnaby Hospital, people in one of the fastest-growing communities in BC are one stop closer to expanded patient care.
The redevelopment is expected to cost more than $1.3 billion, making it among the province's largest health-care investments. It will add two new patient-care towers with new units and operating rooms, resulting in 399 beds on the campus, a bigger emergency department and a new cancer treatment centre. The last major upgrade to the Burnaby Hospital was more than 40 years ago.
The redevelopment begins with a new six-storey Keith and Betty Beedie Pavilion with 83 beds in primarily single-patient rooms with a private bathroom. The pavilion will include a maternity unit, a neonatal intensive care unit and a medical in-patient unit with negative pressure rooms and outbreak zones to isolate infectious diseases.
The facility will also have a mental-health and substance-use in-patient unit with a secured outdoor patio. Within this unit is a five-bed crisis stabilization unit that will provide short-term in-patient care, assessment and treatment for patients in crisis, at risk or in severe distress.
Another part of the modernization will include a new Jim Pattison Surgery Centre and renovations to the existing Support Facilities Building. This includes a bigger emergency department with an increase of treatment bays from 72 to 82, six new state-of-the-art operating rooms, additional pre-operative and post-operative recovery spaces, a new medical device reprocessing department and improvements to a number of other departments.
The six-storey pavilion, the new surgery centre and renovations to existing buildings are scheduled to be complete in 2026. The second patient-care tower is expected to have 160 new beds and a state-of-the-art cancer treatment centre.
Burnaby Hospital opened in 1952 and provides a range of acute care services including emergency care, critical care, surgery, maternity, neonatal intensive care, palliative and adult mental-health and substance-use services.
Learn More:
For a video of the new hospital, visit: www.fraserhealth.ca/bhvideo
====================================================================================
February 10, 2022  Second CT scanner operational at Burnaby Hospital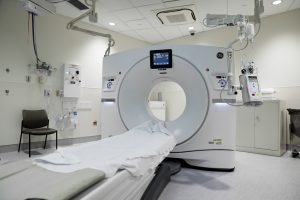 "The addition of a second CT scanner at Burnaby Hospital is a significant investment for Burnaby, which will help reduce wait times for those who need access to this important service," said Adrian Dix, Minister of Health. "Timely access to diagnostic services can be a critical first step to ensuring patients have access to necessary and life-saving care, which is why we are committed to expanding access to these services."
A CT scanner is a diagnostic tool that allows health-care workers to see detailed images of organs, bones, soft tissues and blood vessels.
The existing CT scanner at Burnaby Hospital scans more than 20,000 patients per year. The second CT scanner is expected to provide an additional 8,500 scans in this year, with increasing volumes in the following years.
The new CT scanner was installed in late December 2021 with technologist training and initial startup taking place in January 2022. The CT scanner officially opened to patients on Jan. 15, 2022. Since then, 550 scans have been completed.
"Diagnostic medical imaging can help with prompt diagnosis and early access to treatment, improving patient experience and getting people back to the activities they enjoy," said Dr. Victoria Lee, president and chief executive officer for Fraser Health. "I am grateful to the Fraser Health teams who worked in partnership with the Burnaby Hospital Foundation and the City of Burnaby. I appreciate the generosity from our community partners."
The estimated cost of the project is $4.7 million. Through the Province, Fraser Health is contributing $3.2 million. The Burnaby Hospital Foundation is contributing $1.5 million, including a $1-million contribution from the City of Burnaby.
"We are thrilled to see this project come to fruition, particularly given the pandemic's widespread impact on hospital upgrades and expansions," said Kristy James, chief executive officer of the Burnaby Hospital Foundation. "We can't thank our donors enough and we are so grateful to the City of Burnaby for its contribution of $1 million toward this project. We look forward to the positive impact it will have on the health of people in Burnaby for many years to come."
For more details, please visit HERE