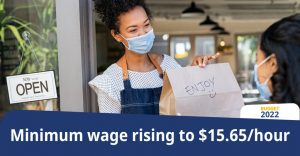 On June 1, 2022, B.C.'s lowest-paid workers will get a pay boost, with the general minimum wage increasing to $15.65 an hour.  For more details, read HERE
Learn more (May 31, 2021): Minimum Wages increase to $15.65/hour  (Translations: Traditional Chinese 繁體中文, Simplified Chinese 简体中文 ,French, Punjabi, Tagalog read HERE )
The Employment Standards website:
https://www2.gov.bc.ca/gov/content/employment-business/employment-standards-advice/employment-standards/wages/minimum-wage
Fair Wage Commission: https://engage.gov.bc.ca/fairwagescommission/
TogetherBC, B.C.'s poverty reduction strategy: www.gov.bc.ca/togetherbc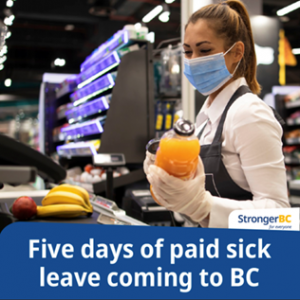 As of January 01, 2022, employees are entitled to a minimum of five paid sick days per year.  (*The changes from employment year to calendar year will be effective upon Royal Assent, which is expected before the end of the current legislative session, to ensure the paid sick leave entitlement applies to the 2022 calendar year.)
More than one million workers could immediately benefit as B.C. becomes the first province in Canada to legislate this level of paid time off for workers who fall ill. This new workplace protection applies to all workers covered by the Employment Standards Act, including part-time workers.
For more information about paid sick leave, visit: Paid Sick Leave
For more information and questions about specific work situations, employers and workers can contact the Employment Standards Branch's Help Line (toll-free): 1 833 236-3700.  The service is available in multiple languages.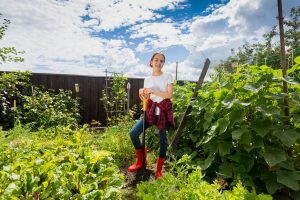 Employers are reminded that changes to employment standards that better protect young people will be in force on Friday, Oct. 15, 2021.
The changes raise the general working age in British Columbia from 12 to 16 and define the types of jobs that are appropriate for those under 16.
Youth aged 14 and 15 are able to do many "appropriate" jobs defined as "light work" with permission from a parent or guardian. In some cases, children aged 14 and 15 may be permitted to do work outside the definition of light work with a permit from the Ministry of Labour's Employment Standards Branch.
Learn more (Oct.14, 2021): New rules protecting young workers (Translation in French, Chinese繁體中文, Punjabi)