Oct.14, 2022
Learn more about how you can now get your medication faster, visit gov.bc.ca/RenewYourPrescription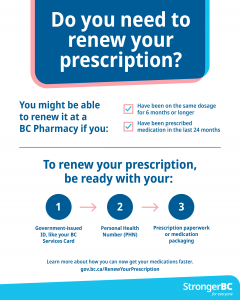 You can now renew or change your prescriptions at your local pharmacy.
Your pharmacist can assess your clinical needs. For most prescriptions, they can:
Change the dose or schedule of your medication
Substitute a different medication
If you're experiencing side effects or having trouble taking your medication, ask your pharmacist for an assessment.
How you can renew your prescription
Your pharmacist can renew your prescription if:
You are clinically stable and have been on the same medication at the same dosage for 6 months or longer
Your prescription is still valid and was issued in the last 24 months
Pharmacists can renew prescriptions for most medications, including narcotics and controlled drugs. Pharmacists can't:
Renew cancer chemotherapy prescriptions
Renew a prescription for narcotics and controlled drugs for longer than originally prescribed
If your prescription has expired, talk to your pharmacist about your options. They may be able to provide an emergency supply of medication until you can get a new prescription.
What to bring to the pharmacy
Government-issued ID, like your BC Services Card
Your Personal Health Number (PHN)
Your prescription paperwork or medication packaging
---
Talk to your pharmacist
You can talk to your pharmacist about  your prescriptions, health and any concerns and questions. Talking to them can help you understand:
How your medications work
Why a specific medication or dosage was prescribed
What kind of side effects you might experience
How different drugs interact with each other
Pharmacists are trained and licensed medical professionals. They are bound by the same ethics and confidentiality rules as your family doctor. Your health information and conversations with your pharmacist are private and confidential.
---
View your prescription history in Health Gateway
Your pharmacy will have access to your prescription records history. You can also access your health records by using the Health Gateway app.
Log in to Health Gateway to view your prescription history and other health records. You can access:
The medications you have been prescribed in the past
The dosages and directions for use for your medications
Prescription records are available back to 1995 for prescriptions issued in B.C. These records can help you have informed conversations with your pharmacist.
---
Pharmacy services are expanding in 2023
In 2023, pharmacists will be able to prescribe some medications independently. This will include some forms of contraception and medication to treat minor ailments. This means you will be able to access more care when you need it.
---
Find a pharmacy near you
You can access expanded pharmacy services in more than 1,400 community pharmacies across B.C.